Scheepjes Maxi Sugar Rush
2.50€
Content: 100% Cotton.
Yarn Group: A (23 – 26 stitches) / 5 ply / sport.
Weight/length: 50 g = approx 125 m.
Recommended needle size: 3 mm.
Knitting tension: 10 x 10 cm = 24 sts x 32 rows.
Machine wash on gentle cycle 40°C / Dry Flat.
To crochet unicolor 88×176 cm shawl you will need 550 g yarn.
Scheepjes Maxi Sugar Rush – ideal for filet crochet and lacework projects or adorable amigurumis!
Description
Scheepjes Maxi Sugar Rush is a laceweight yarn made from 100% Mercerized Cotton. The gorgeous sheen and smooth finish of our Maxi yarns make them the perfect choice for filet crochet and lacework projects. This yarn is also ideal for making adorable amigurumis!
Maxi, Maxi Sugar Rush and Maxi Sweet Treat are identical yarns. The wide range of colours perfectly match our Catona yarns, offering lots of options to play with colour extended possibilities to mix and match!
 EN71-3 certified, ensuring that it's safe to use by those with a sensitive touch, in particular babies and children.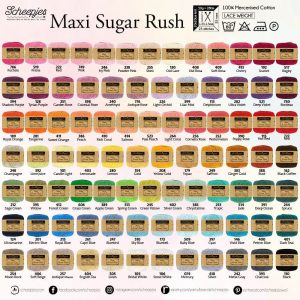 Additional information
| | |
| --- | --- |
| Spalva | 074, 101, 105, 106, 110, 113, 115, 124, 128, 130, 146, 154, 162, 173, 179, 189, 192, 201, 208, 212, 215, 222, 226, 238, 240, 242, 244, 245, 246, 247, 248, 249, 251, 252, 253, 254, 255, 256, 257, 261, 264, 280, 281, 282, 383, 385, 386, 388, 389, 390, 391, 392, 393, 394, 395, 397, 398, 399, 400, 401, 402, 403, 404, 406, 408, 409, 410, 411, 412, 413, 414, 505, 509, 510, 513, 514, 517, 519, 521, 523, 606, 618, 722, 749, 750, 776, 786 |